Future-oriented construction method – wood-concrete composite systems
Future-oriented construction method – wood-concrete composite systems
Timber construction is and remains a popular as well as sustainable way to create complex, multi-storey timber structures. Meanwhile, timber has proven to be an indispensable building material – for this reason, its use should continue to be encouraged. Likewise, the hybrid construction method is shaping the future of timber construction. The timber-concrete composite construction method is becoming increasingly important in this respect and is gradually establishing itself in building practice. This makes us your specialist in these areas and we supply a wide range of appropriate fasteners for the timber construction industry.
The idea behind composite construction is to connect individual materials, i.e. timber and concrete, in a shear-resistant manner so as to exploit the advantages of this composite effect in the best possible manner. It must be said that its main application is in the construction of false ceilings. This construction method proves to be particularly versatile, practical and cost-efficient for timber ceiling structures, because such a composite significantly increases the load-bearing capacity of structures. An optimal load-bearing element is created by the low weight and high tensile strength of timber in combination with the concrete substance.
The TCC construction method is largely an effective method of creating ceilings with high static load-bearing capacity, which, in contrast to a pure timber joist ceiling, has excellent sound insulation and vibration properties.
The cost-effective timber-concrete composite construction method offers a wide range of possible applications. This includes, for example, the renovation of existing/old buildings or new construction. Moreover, this construction method supports sustainable re-densification in urban areas: To meet the urgent need for housing, the multi-storey hybrid construction made of timber and concrete can be used to add storeys and build high-rise buildings without having to take up more land. Particularly in office and commercial construction, the composite construction method stands out due to its high flexibility and the large span widths of ceiling elements.
All the important advantages of TCC:
Improved sound insulation and fire protection
Increased stiffness
Larger span widths
Efficient combination of compressive and tensile strengths
Higher load capacity than pure timber joist ceilings
Short construction times
Low dead weight
The use of timber as a natural building material contributes to climate protection
Download TCC brochures now!
We offer you special solutions for the hybrid construction method using timber and concrete! You can find all other important advantages of TCC and much more information on this topic in our corresponding brochure. You can download them easily!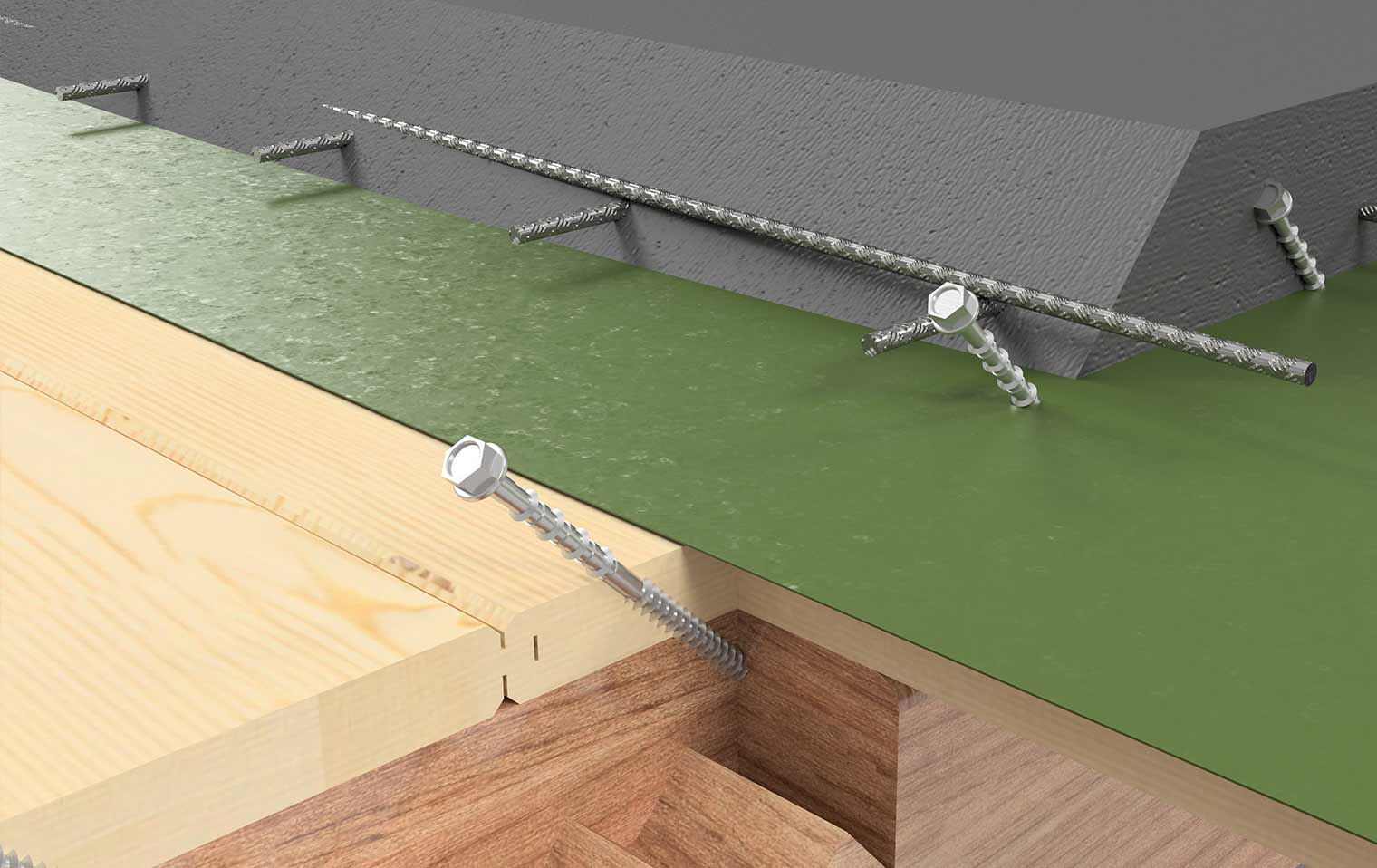 TCC ceiling in detail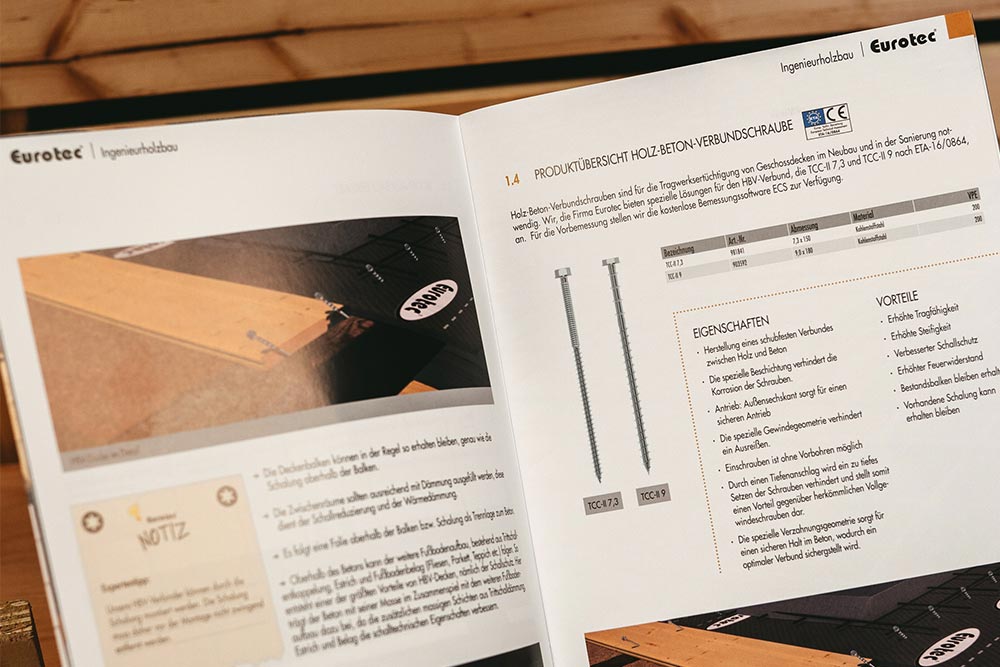 TCC brochure by Eurotec
Shear-resistant joints in the supporting structure!
The success of the bonding effect between timber and concrete depends on the performance of a load-bearing fastener. The degree of bonding should therefore be correspondingly high in order to make sure that the composite cross-section has a high load-bearing capacity and is fit for its purpose. High payloads with particularly large span widths call for high stiffness – in other words, less deflection of the ceiling structure under load. A pure timber joist ceiling, on the other hand, has a much higher dead weight than a TCC ceiling. By bonding timber and reinforced concrete with the help of composite screws, the advantages and specifications of the building materials are specifically exploited for high-strength load-bearing structures.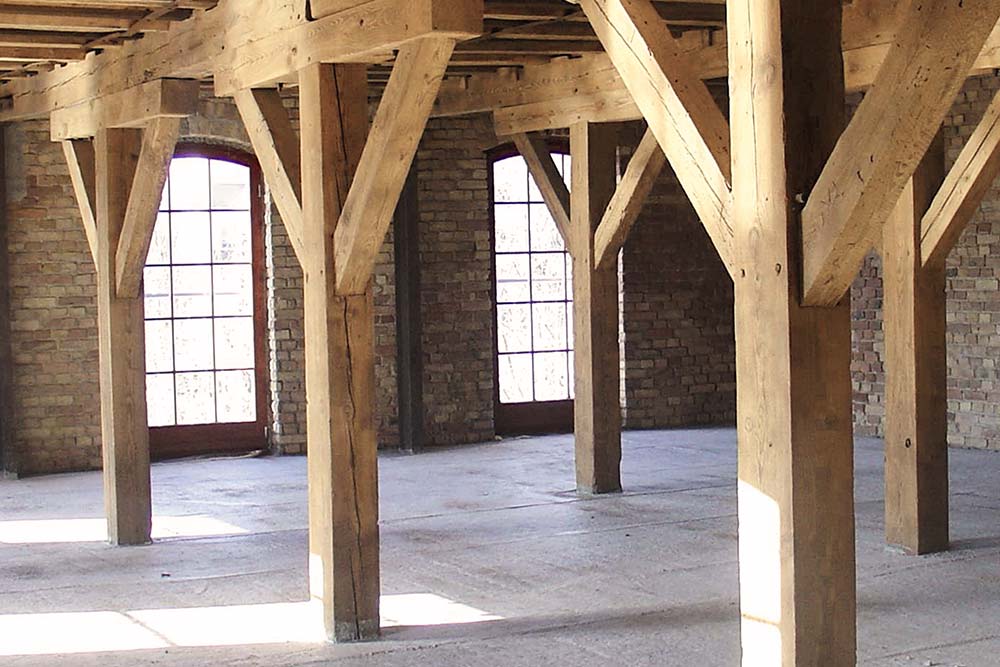 Special wood-concrete composite screws are used for the structural reinforcement of floor slabs in new buildings as well as in renovation areas and act as one of the most effective methods for achieving the bond between timber and concrete exclusively for such applications. For this purpose, Eurotec supplies appropriate solutions for the TCC bond – the shear connectors TCC-II 7.3 and TCC-II 9 according to ETA-16/0864. Their special interlocking geometry guarantees a strong hold in concrete and an ideal bond. The head shape is key to a good positive fit with the concrete. The overlying concrete is bonded to the timber beams by means of the fasteners and is in the compression zone. The underlying timber element is in the tensile zone. A bond between the two materials is unavoidable. Without bonding, the result would be deflection and displacement of the components at the supports. For this reason, it is extremely important to use shear connectors and have the building authority certification for executing forces in practice.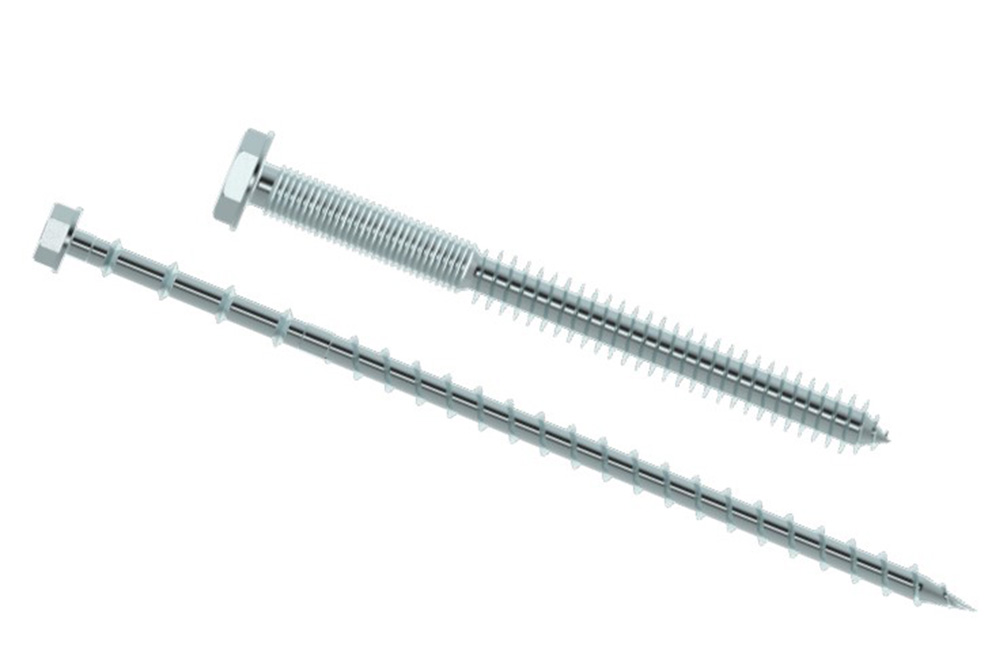 Eurotec assists with its know-how during implementation
For active static bonding of the two materials, it is initially necessary to carry out extensive calculations and to select the optimum alignment of the screw. Important static requirements must always be observed. Eurotec's ECS calculation software can be used to perform a detailed Mathcad-based calculation for structural design. The software provides all the necessary arithmetical evidence along with verifiable documents.
In view of the ever-increasing importance of timber construction and wood-concrete composite systems, Eurotec is constantly focusing on further developing its products and providing effective solutions. When it comes to innovative fasteners as regulated building products, the Eurotec team is always on hand to assist with projects.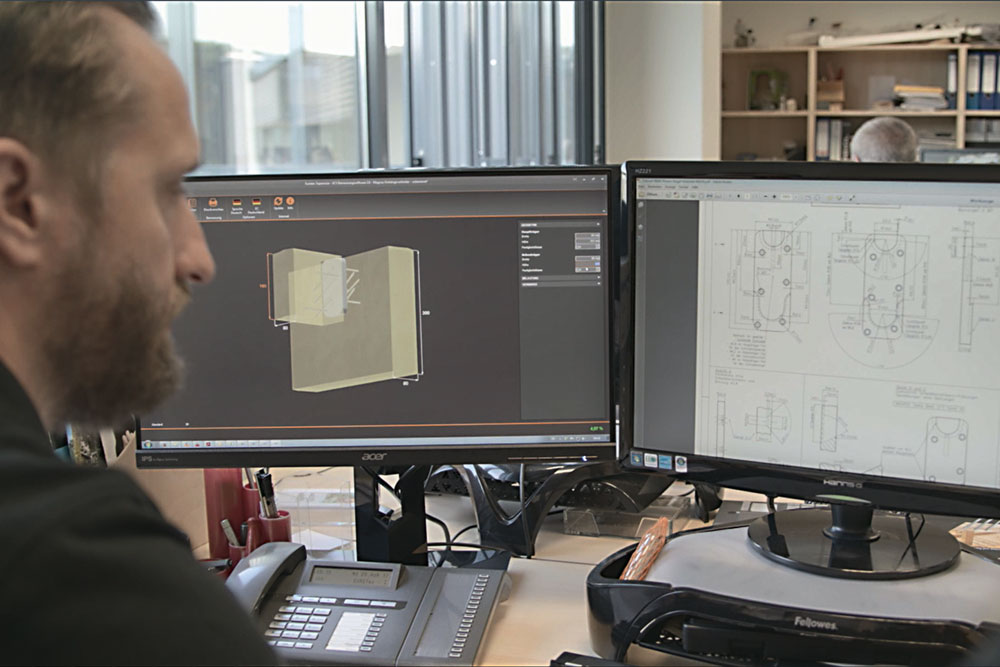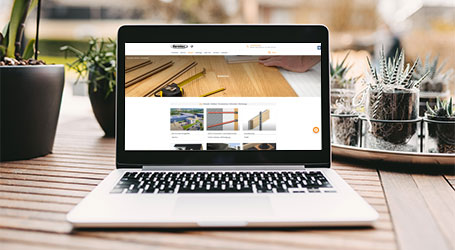 Media library
You will find all product presentations and application videos in our media library. How do I build a substructure? Is it possible to fix terrace decking in a non-visible way? And if so, how? Answers to these questions and much more can be found in our informative videos.
Here you will find information and news about Eurotec.
Discover new catalogues, products or other topics.