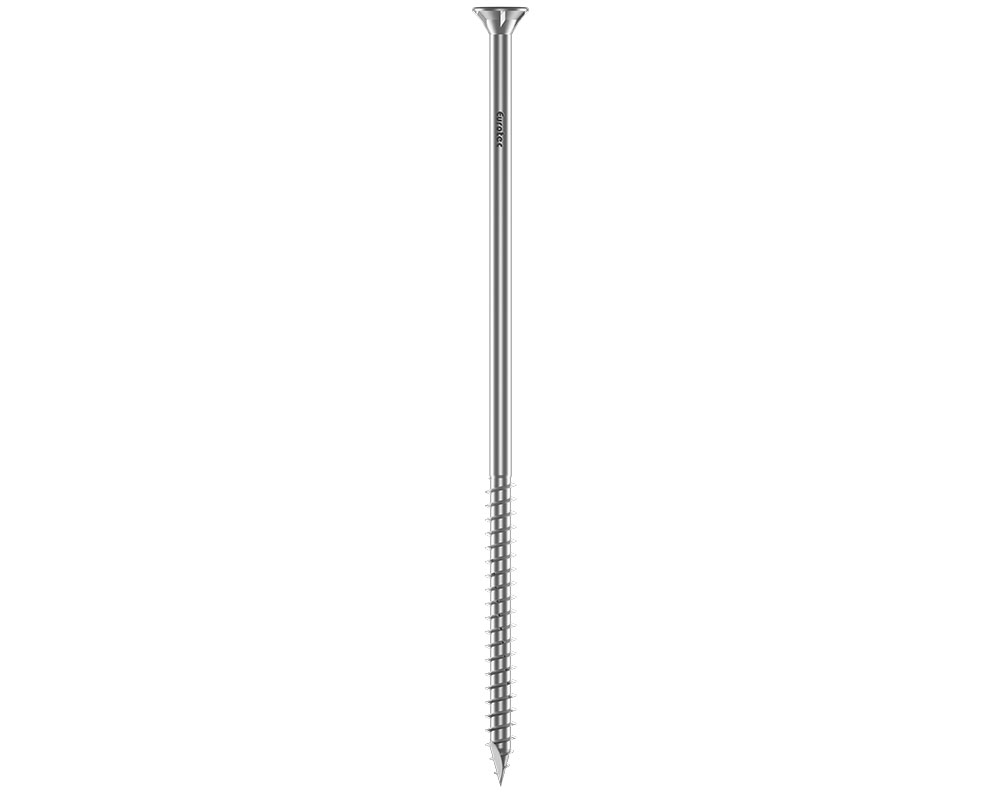 To the product table
LVL construction screw
Countersunk head, galvanised
For fixing elements made of laminated veneer beechwood 
Use in laminated veneer beechwood without pre-drilling
The Eurotec LBS construction screw is a wood screw that can be used to connect components
made of laminated veneer beechwood to one other or that can be used to affix attachments
made of other woods, wood-based materials and steel can to laminated veneer beechwood.
No pre-drilling is necessary in this regard due to the special thread geometry and a particularly
high breaking torque. The LBS construction screw is intended for use in load-bearing structures
in service classes 1 and 2.

Product table
| Art. no. | Dimension | Drive | PU | EAN |
| --- | --- | --- | --- | --- |
| 904881 | 7,5 x 80 mm | TX 40 | 50 Pieces | 4251314738905 |
| 904882 | 7,5 x 100 mm | TX 40 | 50 Pieces | 4251314738899 |
| 904883 | 7,5 x 120 mm | TX 40 | 50 Pieces | 4251314738882 |
| 904884 | 7,5 x 140 mm | TX 40 | 50 Pieces | 4251314738875 |
| 904885 | 7,5 x 160 mm | TX 40 | 50 Pieces | 4251314738868 |
| 904886 | 7,5 x 180 mm | TX 40 | 50 Pieces | 4251314738851 |
| 904887 | 7,5 x 200 mm | TX 40 | 50 Pieces | 4251314738844 |
| 904888 | 7,5 x 220 mm | TX 40 | 50 Pieces | 4251314738837 |
| 904889 | 7,5 x 240 mm | TX 40 | 50 Pieces | 4251314738820 |