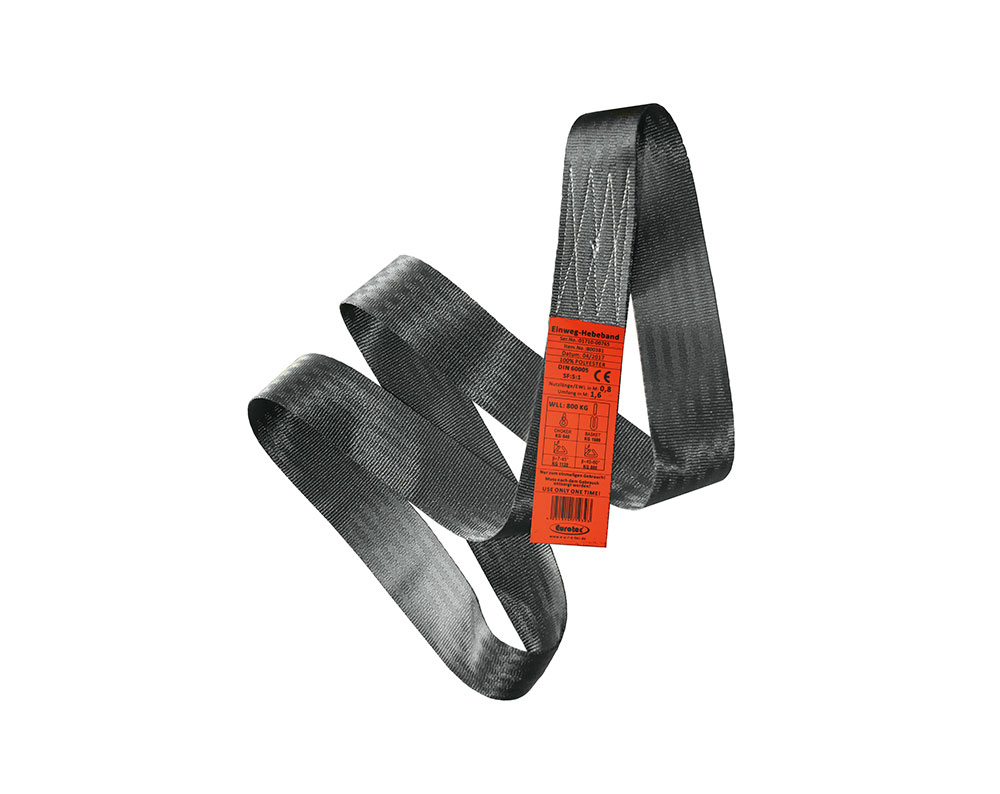 To the product table
Single-use lifting strap
The single-use lifting strap is ideal for transporting goods from the production facility to the consumer. In accordance with DIN 60005, single-use lifting straps can only be used once and must be destroyed and disposed of at the end of the transport chain. They can be recognised above all by the orange label with a notice regarding single use. The minimum breaking strength of single-use lifting straps is equal to five times the load-bearing capacity.
They are lightweight and highly flexible and therefore provide optimum handling characteristics. They are used both on the shop floor and on construction sites.
Following successful transport of the goods, the lifting straps can be detached easily. The single-use lifting straps are available in the following effective working lengths: 40 cm, 50 cm, 60 cm, 80 cm, 100 cm and 120 cm.
Advantages
Cost-effective transport aids
Easy handling and disposal
Flexible, lightweight lifting tackle
Suitable for various attachment methods
Easy detachment of the product
Manufactured in accordance with DIN 60005
Product table
| Art. no. | Effective Working Length | Circumference | Rated carrying capacity | Safety factor | Width | Material | Standard | PU | EAN |
| --- | --- | --- | --- | --- | --- | --- | --- | --- | --- |
| 800361 | 40 cm | 80 cm | 800 kg | 5 : 1 | 48 mm | Polyester | DIN 60005 | 1 | 4251314734297 |
| 800362 | 50 cm | 100 cm | 800 kg | 5 : 1 | 48 mm | Polyester | DIN 60005 | 1 | 4251314734303 |
| 800363 | 60 cm | 120 cm | 800 kg | 5 : 1 | 48 mm | Polyester | DIN 60005 | 1 | 4251314734310 |
| 800381 | 80 cm | 160 cm | 800 kg | 5 : 1 | 48 mm | Polyester | DIN 60005 | 1 | 4251314719393 |
| 800382 | 100 cm | 200 cm | 800 kg | 5 : 1 | 48 mm | Polyester | DIN 60005 | 1 | 4251314719409 |
| 800383 | 120 cm | 240 cm | 800 kg | 5 : 1 | 48 mm | Polyester | DIN 60005 | 1 | 4251314719416 |