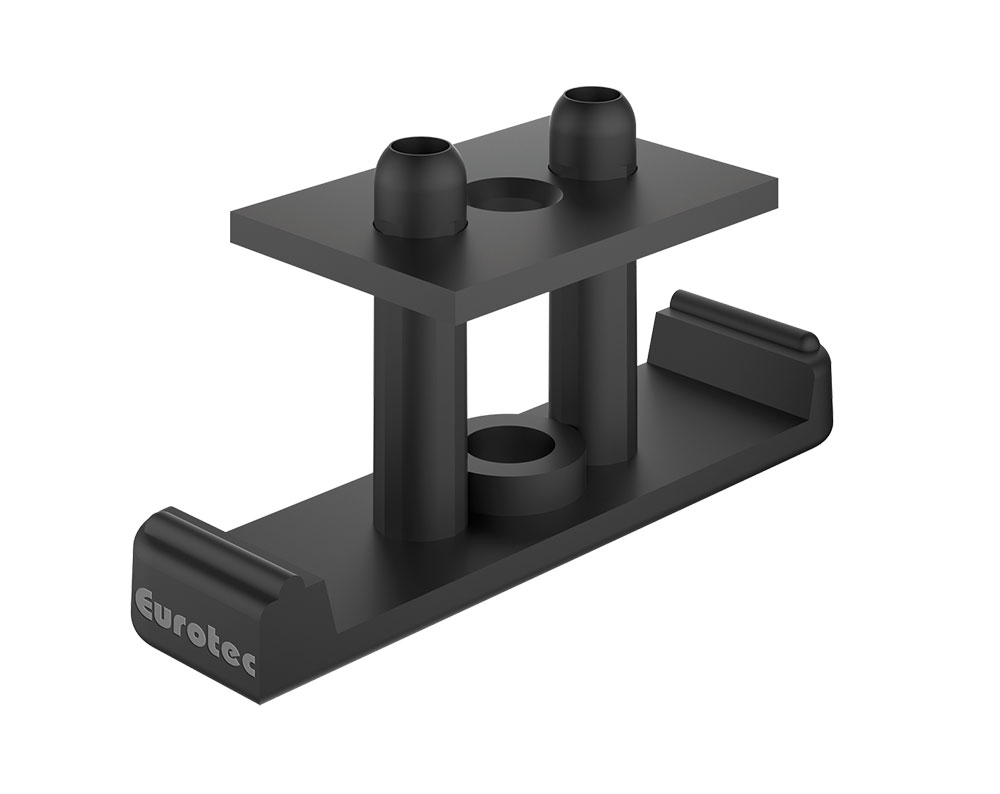 To the product table
Twin system clip
For hidden fastening of decking with grooved sides
For hidden fastening of decking with grooved sides and made of dimensionally stable timber types (e.g. larch, thermally modifi ed timber) or WPC to:
EVO aluminium system profile
EVO Slim aluminium system profile
HKP deck-support system
Product description:
The Twin aluminium system clip is inserted between two wooden boards before being secured within the board groove using a stainless steel clamping plate.The clamping plate is attached to the aluminium substructure using a drilling screw between the joints.The spacer domes ensure uniform joint spacing from board to board.
Clamping plate:
Dimensions: 20,5 x 2 x 30 mm
Material: A2 stainless steel, black
Advantages:
Indirect/hidden fastening solution
Individual boards can be adjusted and replaced at any time
Compatible with Eurotec's EVO/EVO Slim aluminium system profi les and the HKP deck-support system
Uniform board spacing of approx. 6 mm
Supports constructive timber protection
Weather-resistant
The Twin system holder is suitable for planks with the following groove geometry:
Groove depth T: ≥ 7,5 mm
Groove width B: ≥ 2,0 mm
Groove lip S; ≥ 2,0-12,0 mm
The suitability of the type of wood may need to be determined by the manufacturer/timber supplier.
Important notes
Please download our product data sheet on this page for technical information on application and installation!
* Comes supplied with screw Ø 5 x 50 mm and bit
** If the Twin system clip is to be used in combination with the EVO Slim, a shorter screw must be ordered separately. If the supplied screw Ø 5 x 50 mm is used, there is a risk that components underneath the EVO Slim, such as roof seals, may be damaged.
Product table
| Art. no. | Dimension | Groove lip | PU | EAN |
| --- | --- | --- | --- | --- |
| 111878** | 5,0 x 35 mm | 2,0 - 12,0 mm | 100 | 4251314717641 |
| 945959 | 15,0 x 26,0 x 55,0 mm | Plastic, black | 200* | 4250207479192 |
| 111882** | 5,0 x 30 mm | 6,0 - 7,0 mm | 100 | 4251314722232 |