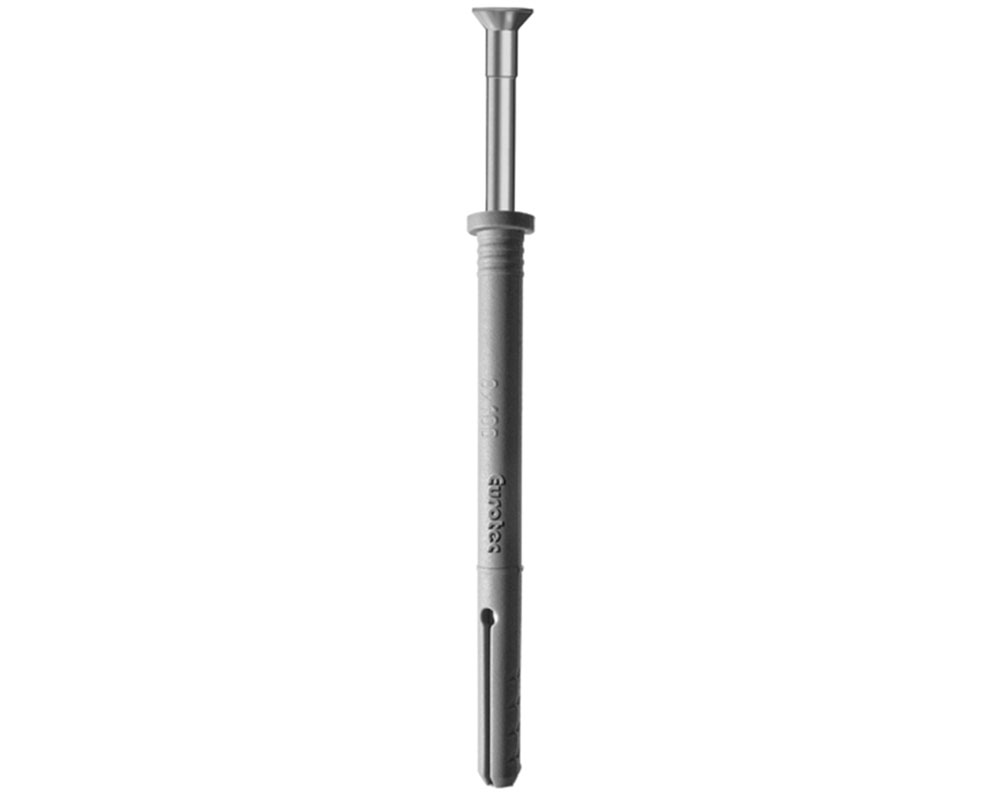 To the product table
END hammer-in frame fixing
Set consisting of plug and nail
The EuroTec hammer-in frame fixing (END) is suitable for fastening in concrete, solid bricks, sand-lime bricks and other high-strength building materials. It consists of an electrogalvanised crosshead screw (PZ2) and a countersunk plastic plug.
 Advantages:
Fast and efficient installation.
Saves time thanks to preinstalled threaded nail.
Especially suited to working with timber and lightweight-construction profiles.
Easy to remove with crosshead drive.
Product table
| Art. no. | Dimension | Drive | PU | EAN |
| --- | --- | --- | --- | --- |
| 200004 | 5,0 x 30 mm | PZ 2 | 200 Pieces | 4250207473404 |
| 200005 | 5,0 x 40 mm | PZ 2 | 200 Pieces | 4250207473411 |
| 200006 | 6,0 x 40 mm | PZ 2 | 200 Pieces | 4250207473428 |
| 200007 | 6,0 x 60 mm | PZ 2 | 200 Pieces | 4250207473435 |
| 200008 | 6,0 x 80 mm | PZ 2 | 200 Pieces | 4250207473442 |
| 199996 | 6,0 x 100 mm | PZ 2 | 100 Pieces | 4251314720962 |
| 199997 | 8,0 x 50 mm | PZ 2 | 100 Pieces | 4251314720979 |
| 200009 | 8,0 x 60 mm | PZ 2 | 100 Pieces | 4250207473466 |
| 200010 | 8,0 x 80 mm | PZ 2 | 100 Pieces | 4250207473473 |
| 200011 | 8,0 x 100 mm | PZ 2 | 100 Pieces | 4250207473459 |
| 199998 | 8,0 x 120 mm | PZ 2 | 100 Pieces | 4251314720986 |
| 199999 | 8,0 x 140 mm | PZ 2 | 100 Pieces | 4251314720993 |