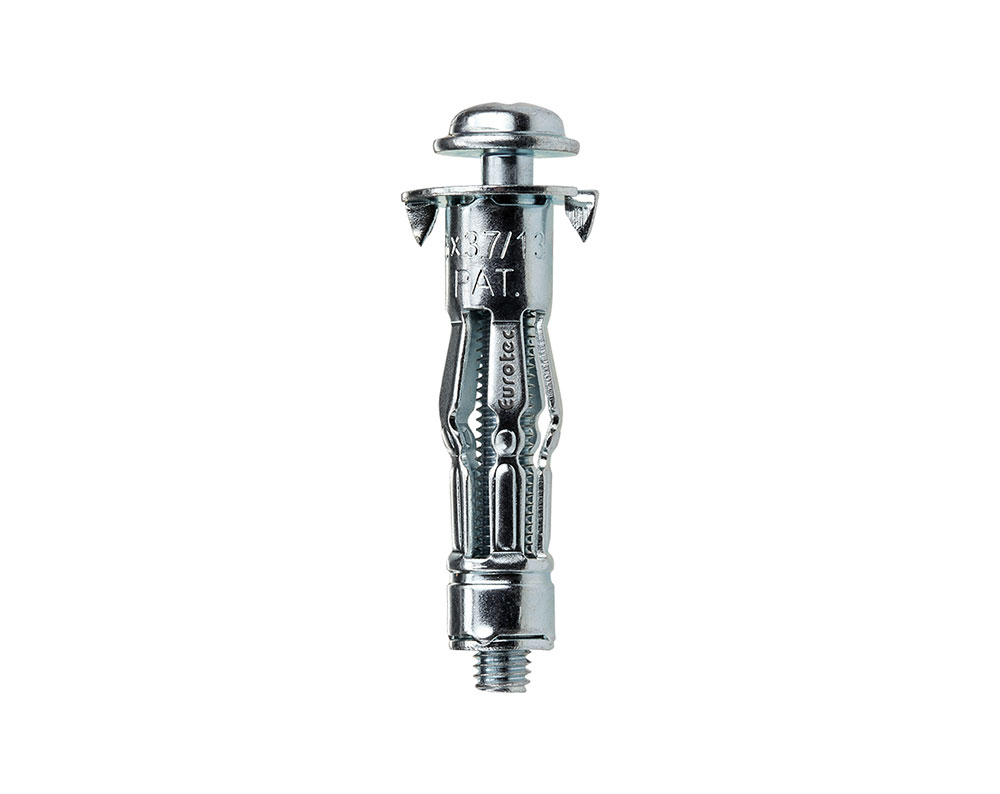 To the product table
Cavity fixing
The cavity fixings with a metric screw are the optimum solution for any fastening involving a cavity. Assembly is easy using the corresponding Eurotec circlip pliers or even just a screwdriver. Simply tighten the fixing until it holds firm. The premounted screw can be loosened and unscrewed – or fixed to the component – without causing the fixing to lose its grip. The screw can also be replaced with another fastening element with a metric thread of the same size.
High load-bearing capacity
Easy replacement of the fastening element
Anti-twist element prevents turning in the building material
Premounted metric screw with cross-head drive
Easy installation using circlip pliers or screwdriver 
Instructions for use
Pilot-drill hole. 
Insert cavity fixing into building material. 
Tighten fixing until it holds firm. 
Remove premounted screw. 
Fix component in place with screw or other fastening element. 
Fields of application
Plasterboard, plywood boards, chipboard, calcium silicate boards
Indoor applications, e.g. pictures, shelves, lamps
Product table
| Art. no. | Dimension | Drill Ø | Board thickness | Sleeve length | PU | EAN |
| --- | --- | --- | --- | --- | --- | --- |
| 200227 | 4,0 x 32 mm | 8 mm | 4 - 9 mm | 33 mm | 100 Pieces | 4251314721617 |
| 200228 | 4,0 x 38 mm | 8 mm | 9 - 16 mm | 39 mm | 100 Pieces | 4251314721624 |
| 200229 | 4,0 x 46 mm | 8 mm | 16 - 22 mm | 46 mm | 100 Pieces | 4251314721631 |
| 200230 | 5,0 x 37 mm | 10 mm | 5 - 13 mm | 37 mm | 100 Pieces | 4251314721648 |
| 200231 | 5,0 x 52 mm | 10 mm | 5 - 18 mm | 53 mm | 100 Pieces | 4251314721655 |
| 200232 | 5,0 x 65 mm | 10 mm | 18 - 32 mm | 65 mm | 100 Pieces | 4251314721662 |
| 200233 | 6,0 x 37 mm | 12 mm | 5 - 12 mm | 37 mm | 100 Pieces | 4251314721679 |
| 200234 | 6,0 x 52 mm | 12 mm | 5 - 18 mm | 53 mm | 100 Pieces | 4251314721686 |
| 200235 | 6,0 x 65 mm | 12 mm | 18 - 32 mm | 66 mm | 100 Pieces | 4251314721693 |
| 200236 | 8,0 x 52 mm | 14 mm | 5 - 18 mm | 55 mm | 100 Pieces | 4251314721709 |
| 200237 | 8,0 x 65 mm | 14 mm | 18 - 32 mm | 68 mm | 100 Pieces | 4251314721716 |